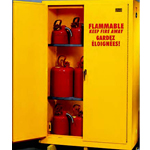 WB Safety Storage Cabinet
WB ULC listed Safety Storage Cabinets are designed and labeled by the Underwriters Laboratories of Canada as meeting the requirements of the National Fire Code of Canada 1980 part 4. Flammable and Combustible Liquids performance clause 4.2.10.4.
Approval: ULC
Capacity: 30 Gal.
Width: 44″
Height: 45″
Depth: 19″
Weight: 350 lbs.
Shelves: 1
Shipping Weight: 350 lbs.